Hit with the Smart Stick..
06Oct11
I came home last night from a Paleo potluck/guest speaker session on Gluten and that's what Hubby said to me. "Sounds like someone hit you with the smart stick." Thankfully, I was high on endorphins of great food & friendship & meating new people, so I didn't take offense at it. I totally admit that I have avoided learning all the science about this way of life. I lived it, it worked for me, that's been enough for now. Last time I had a wonderful experience discussing things with a Nutritional BioChemist. Heady shit, Maynard.
Gluten isn't something I've spent 12+ years researching, so I know almost nothing about it. I just know that stopping wheat ended years-long suffering of IBS, Gi-distress, dumping syndrome, excessive gas, brought more blood sugar stability, etc. Did you know there is a substance in wheat that acts like morphine on the body? Yeah, baby, that's the good shit. No wonder it's so hard to quit that. And it's not just wheat. There's some serious cross-reactivity with other grains, grain-like substances, even coffee, chocolate, and milk.
Thank the good old US of A for it's fascination with genetically modifying everything and it's mother. Wheat wasn't nearly this bad 50 years ago. Evolution is there for a reason, people, and when you *F* with that, you throw our bodies for a loop – and our health is suffering BIG-time for it.
While I saw a lot of improvement giving up wheat, my personal boogieman is refined sugar & high-fructose substances – HFCS & agave, even apples can trigger a migraine for me now. Serious bummer. Thankfully, there are ways to help mitigate responses. Something as simple as some homemade sunflower or almond butter or raw cheese w/ a smaller-portion of apple, or baking the apples & adding a healthy fat like pastured butter & lots of cinnamon seems to help. Some sugar seems to be ok, but my tolerance level is indecently low – which is a blessing. I'll stick to my plans for making my own and using raw local honey, blackstrap molasses, stevia, etc.
It has really become noticeable these last few weeks that our craving for sweet stuff has diminished – not just me, but the whole family. When I started this journey, I was making multiple Primal/Paleo baked goods a week, keeping dark chocolate in the house 24/7, having to buy Larabars in bulk, even making the ice creams & popsicles daily. I made Everyday Paleo's apple/banana muffins yesterday because I just happen to have a couple of very-far-gone bananas and I didn't want to toss them. My son ate the top off one, and my daughter ate one. The rest are in the fridge. And it's not that they were a flop – hell, I'm allergic to bananas and *I* had the top off one (with a big old pat of Kerrygold). They are amazing!!! That was the last sweet thing my kids ate yesterday. I think one of the things that's helped is switching over to coconut milk in our ice cream, rather than half n half. I don't get those stomach aches anymore, and we all really have enough, instead of being spun into rebound cravings and hunger. Pretty freaking awesome.
& because I lurv you all so much, I'll leave you w/ a pic of my breakfast this morning (the kids had the same thing, except w/o the brussels sprouts):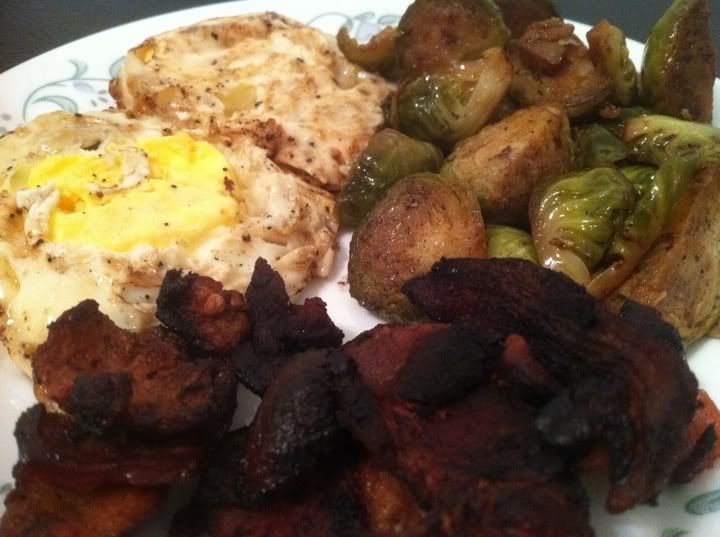 Filed under: Paleo/Primal WOL
|
6

Comments
Tags:
allergies
,
bacon
,
depression
,
diabetes
,
elimination diet
,
food porn
,
gluten-free
,
health
,
low carb diet
,
paleo
,
Primal
---
---